Built for Agencies
The all-in-one platform to deliver better results to your clients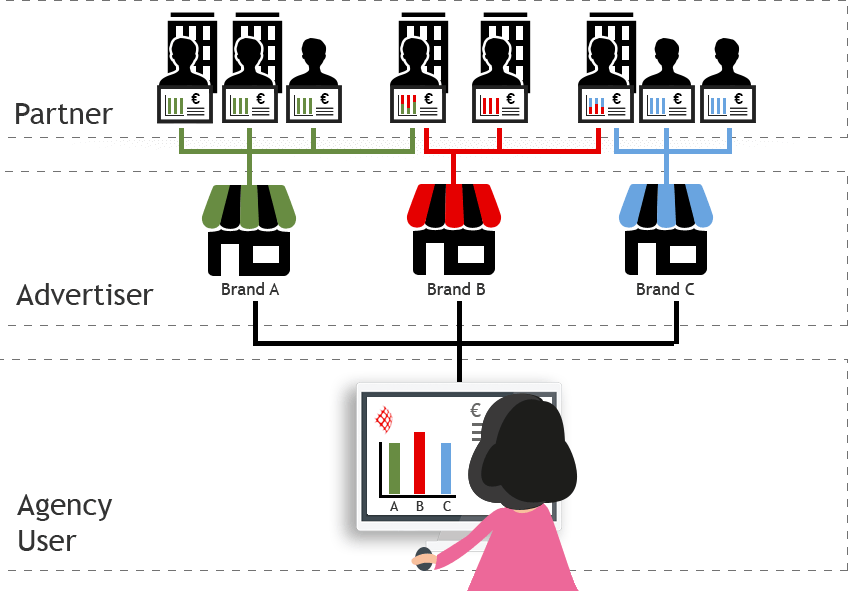 We believe in tracking everything. How?
1st-party tracking
Offer 1st-party tracking to your clients to increase tracking accuracy and avoid potential ad-blocking
Flexible tracking
Easily integrate our tracking into all major tracking systems (DoubleClick, etc) via a variety of features built to ensure compatibility
Click filters
Control CPC quality by setting up time-based or location-based click filtering
On-page tracking
Manage your tracking integrations across your client's website using our UI-based container tag solution
Offline to online & cross-device tracking
With our progressive attribution functionality, you can track your customers offline and online, as well as across devices
Tracking switch
Implement Ingenious as your leading tracking system to benefit from our cutting-edge functionalities across all of your marketing integrations
3rd-party pixel firing
Integrate other systems faster by using our UI-configurable 3rd-party pixel firing (browser-side and server-side)
We believe in making clients happy. How?
Automated dashboards
Stay on top of your clients' performance with real-time dashboards configured to display your desired KPIs
Reporting
Check the overall performance of your client portfolio, across all brands and markets, easily in one go
Client-specific access
Provide each client with a dedicated interface showing only the data they have been given access to
Rights & roles
Ensure the right people get access to the right data and functionality, cutting out anything unnecessary
One client management platform
Consolidate and manage all of your clients within one platform, enabling you to work efficiently
Technical support
As standard we provide advanced product support for those times when you need a helping hand
We believe your brand comes first. How?
Full white-label
Fully customise the platform in your own branding to make it truly yours
1st-party domains
Provide your clients with login URLs that are run over your 1st-party domain
Customisable finance templates
Customise your billing documents to your look and feel and with your desired financial information
Branded communication
Send newsletters to partners via your (or your clients') email server, retaining the desired branding throughout all interactions
We believe understanding the customer is king. How?
Conversion targets
Using commercial and analytical triggers, you can model the relevant interactions to measure success
Customer journey analytics
Provide deep customer insight by diving into macro and micro customer journeys, identifying patterns, and optimising channel overlaps
Channel and device analytics
Understand the marketing mix and customer device behaviour to deliver effective results
Real-time attribution & deduplication
Provide clarity of all marketing activities by modelling the interactions that you define as important
We believe finance should be easy. How?
Commission management
Highly flexible and versatile commission management to satisfy any payment structure your client may desire
Billing run management
Easily manage billing runs (regardless of the number of clients) with just a few clicks
Cloud-based document storage
All of your generated financial documents are stored safely and securely in the cloud
100% GAAP-compliance
Control your financial processes in a GAAP-compliant manner
Payment flexibility
A variety of billing modes provided (e.g. pre or postpayment) to match your finance team's desired billing process
International capability
Tailor your financial documents currencies, tax systems, languages) to the relevant markets you offer your services in
We believe technology should save you time. How?
Automated data transfer across systems
Make data compatible and automate transfer between differing systems by defining rules and translations that are executed in real-time
Automated validation
We provide a variety of automations to free you from low value manual validation work. We believe your time can be better spent.
API
Deepen your client integration by providing them your 1st-party API, so they can automate their workflows into your marketing processes
Real-time deduplication
Automatically deduplicate with our sophisticated tracking switch so you don't have to do it manually ever again
With Ingenious, you benefit from…
Single source of truth
Ingenious is built to be your leading system, structuring and consolidating data from all external providers, making it ready for analysis.
Data accuracy
We track everything, so you can provide your clients granular data-driven insights, even down to raw data analysis, all with no data sampling applied.
Cost saving
We charge monthly based on your product usage, not your business results.
Time saving
We provide various automations so you can manage your accounts with ease
Control over your data
You can organise your tracked data and consolidate it according to your desired data structure and your clients' KPIs.
Fully comprehensive solution
We cover all your needs from providing a publisher interface all the way down to storing your financial documents.
Serviced by industry experts
Our team consists of online marketing professionals bringing many years of varied experience to the table.
Cloud native infrastructure
With our Google Cloud Partnership, we deliver you security and reliability of the highest standards.
"We have done our research and could not find a comparable comprehensive solution. Since we started using Ingenious Enterprise, we have saved 30% of our time, which is now invested in sales and other services."

Don't be shy
Join these brands and find out how Ingenious Partner Management Platform can help you manage your partnerships more effectively.