Big data is surrounding us and growing as we speak. A prognosis made by International Data Corporation (IDC) expects that data volume will grow so exponentially that we will gather a total of 44 zettabytes worth of data by 2020. A whopping 44 zettabytes! That is a figure with 21 zeros in total!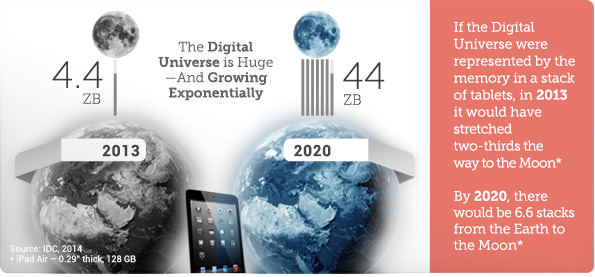 Alas, big data alone doesn't have value. There is so much data being created, and at such a speed, that it is becoming nothing but a gigantic pile of mess – unless we make sense of it.
How does big data affect me?
Within this pile of mess is important information you can derive from. Your customers have seen your brand, clicked on it, explored your site, visited a comparison site, received a voucher, and made a purchase, wrote a review – and it continues in a cycle! Every action at every touch point leads to data creation. These are information you need to make sense of, in order to understand their buying behaviour. This includes their habits, preferences, technical requirements, as well as the main sources that are leading your customers to you. Knowing such patterns and analysis empowers you to make better budget allocation and optimise business decisions.
But I'm not a data scientist…
It's true: To extract any form of meaning or value, you need to sift through large amounts of raw data, pick out those that are important, put them together and make them easily understandable and aesthetically pretty, so that everybody in your team (not just scientists) is able to analyse and work with the data. But this is where big data technology comes in.
What is big data technology?
The fundament of big data analytics extracts important information from your big data and placing them into a database in an orderly fashion, this process also known as data mining. The differences between this and traditional analytics are:
Scalability: Big data analytics is able to manage a large variety of data, collected continuously and at a high speed that is not typically within the limits of a traditional data warehouse.
Speed: Big data analytics has the ability to support real-time data collection, data analysis as well as decision-making.
Intelligence: Big data analytics enables predictive modelling, so that marketers can identify patterns and make data-driven decisions.
With the help of the right technology provider, marketers are able to run big data analytics on their own and this is an important step for the business. After all, only those, who understand data, can create value from it.
Make smarter big data decisions with structured marketing data from Ingenious
Our platform Ingenious Enterprise offers analytics that help turn big data into smart data. We ensure our clients are able to analyse their business data easily. We track and consolidate both external and internal data to the highest accuracy and place them into a structure that makes most sense for the analysis of our clients' businesses.
By uncovering synergy and correlations that are crucial for revenue, marketers can gather actionable intelligence, manage risks and ultimately make smarter decisions for their business.
Meet us to find out more!
We will be present at Mobile World Congress and Online Marketing Rockstars this week! If you are going to be there too, make an appointment with us on the respective links now and find out more about the powerful Ingenious Enterprise platform in person!