We are proud to announce that Ingenious Technologies has been officially certified as a Microsoft Partner with the highest competency as a cloud platform.
The Microsoft Partner Network supports a pool of global organizations with various specialized area of business, such as cloud platform, app development, and data management. In the "cloud platform" segment, our software as a service (SaaS) solution, built on the Microsoft Azure cloud, is being evaluated.
This Gold certification indicates the strength and capability of our cloud platform, Ingenious Enterprise, as it topped the stringent evaluation prerequisites, including attaining several customer reviews to support our application.
Ingenious Enterprise is a marketing platform designed for e-commerce, portals, marketplaces, and intermediaries across all industries. Its goal is to equip marketers with full data accuracy and transparency, by gathering, consolidating and structuring internal and external data together on a single platform, so that marketers can make smart and agile data-driven business decisions.
We have chosen to work closely with Microsoft Azure (and won our clients' trust) also because all sensitive data we collect on our cloud-based platform complies with the strict European data protection laws.
It was about a year ago that we had received a medal from Microsoft, awarding us for our Silver Competency as a cloud platform, which we had promptly posted on Facebook. What a lovely milestone it is to receive the Gold one now!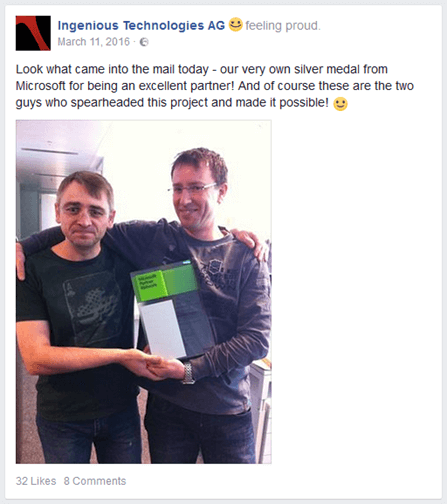 We are proud to have a trusted international organization like Microsoft evaluate and recognize our competency!