Integrate your digital world with Ingenious Enterprise
and 3rd-party service providers to gain revenue and efficiency
Plug and play
Goodbye manual integration! Ingenious Marketplace takes care of all integrational work with all participants, so all you need is a simple click.

Boost your business
Gain access to new partners and more reach that boost your revenue. Enjoy the selection of approved top players to connect with and expand with the help of their expertise.

Gain maximum efficiency

Save money and resources through marketing automation with the Ingenious Enterprise platform, together with 3rd-party applications (e.g. in-app tracking, banking).

Own your relationships
The marketplace ecosystem delivers a legal framework for you and your partners to directly agree business terms and conditions under European data protection laws.
Provide businesses with your network and technology
through Ingenious Marketplace

Connect with new players

Make use of a new distribution channel to expand your network to new players in the market.

Consolidate all activities
Experience a consolidated full view of all your business activities using a single log in. Monitor their performance.

Work with clients directly

Get in touch with clients one-on-one using the Ingenious Marketplace. Take control of your co-operations with them.

Automate your new sales
Enable new clients to get to know you and make the initial contact with you, for a change. Acquire more sales effortlessly.
Entities make use of Ingenious Enterprise as an integrated platform that brings numerous functionalities together, enabling them to gain a better view of their customers and their businesses.
Through Ingenious Marketplace, service providers can offer their products and expertise for advertisers that further add value to their businesses, enabling them to gain even more revenue and efficiency.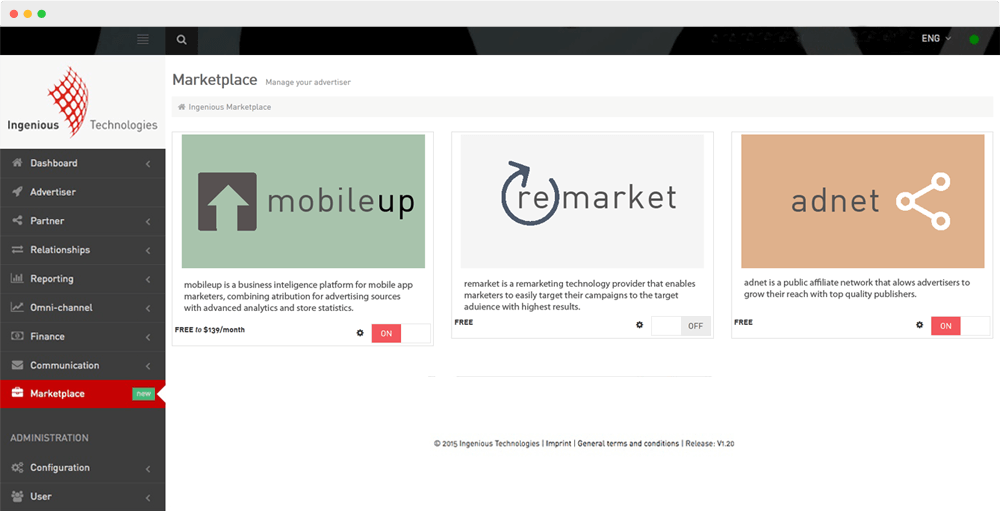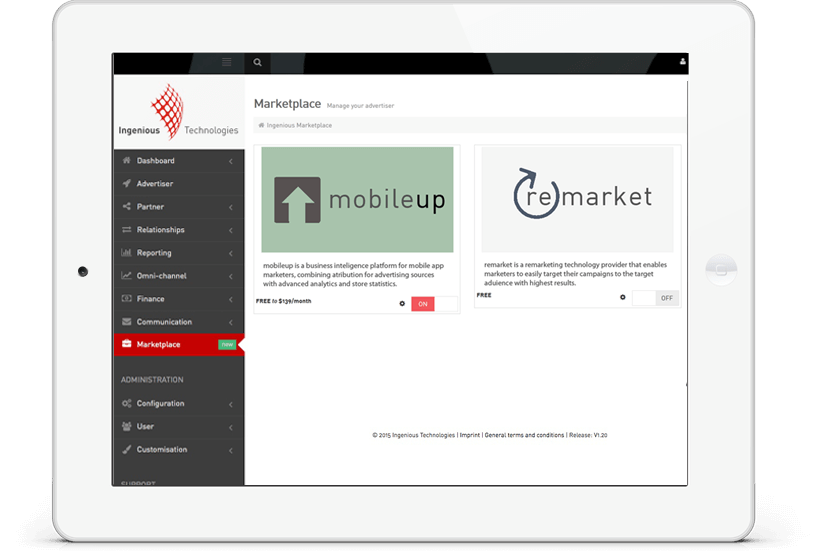 How do I sign up?
Gain high returns with absolutely no additional cost! Registration for the Ingenious Marketplace is free of charge.
Sign up now and apply for the Ingenious Marketplace!