Finance
The core finance system your partners can trust.
Access different model commission and fee rules, bonuses and incentives, and let the platform do the hard work on taxes, invoicing, and payouts.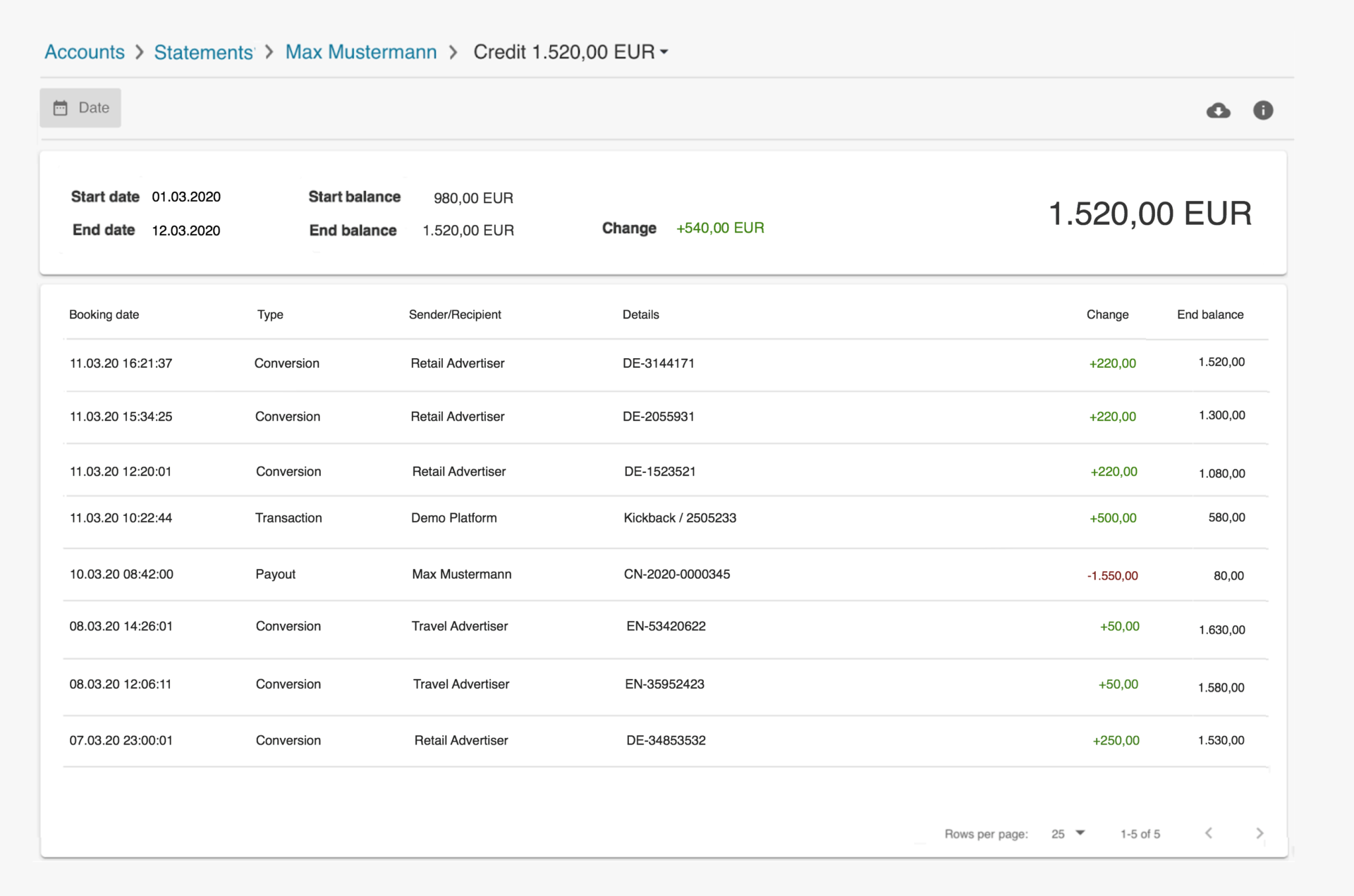 Want to see how Finance works?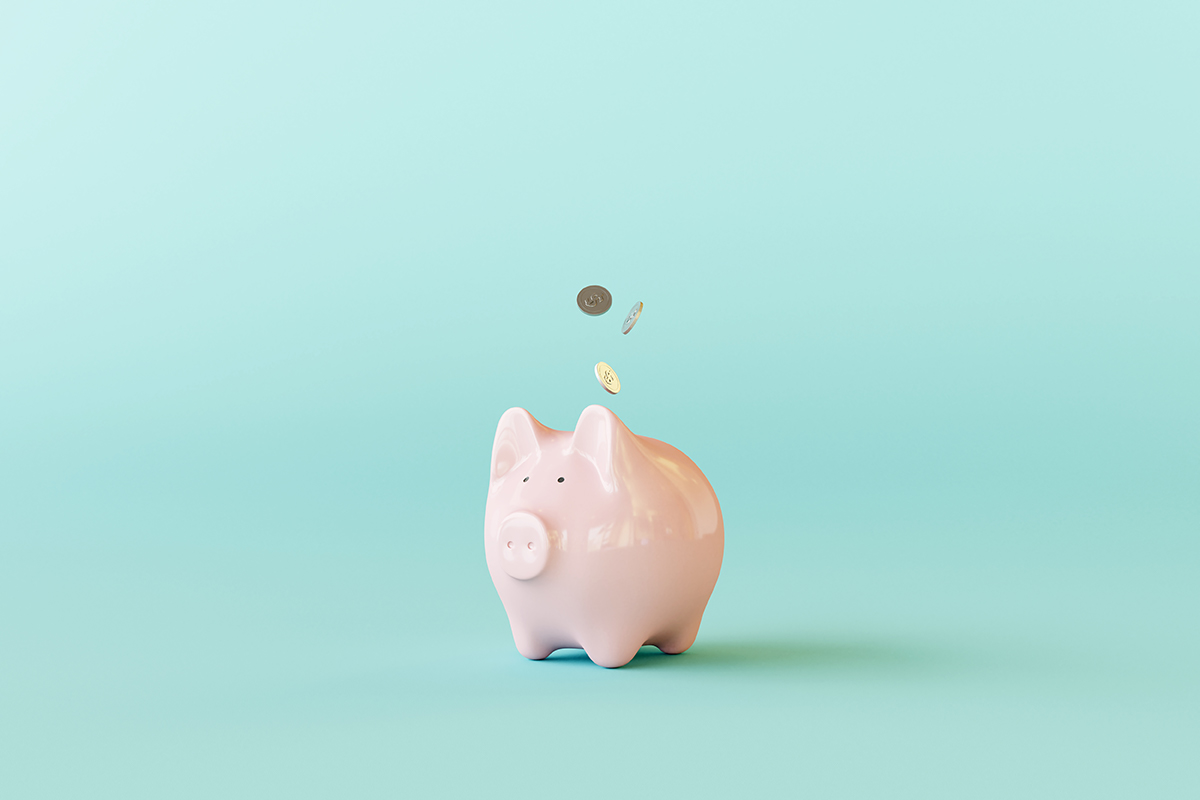 Access automation for your finance
Ingenious's Finance functionality is designed to automate all booking and payment processes for partner management within a closed, secure and GoBD-compliant system.
Access simplicity and digestible data
Finance enables the mapping of individual business models by presenting booking and payment processes in a comprehensible manner, regardless of how many partners you work with.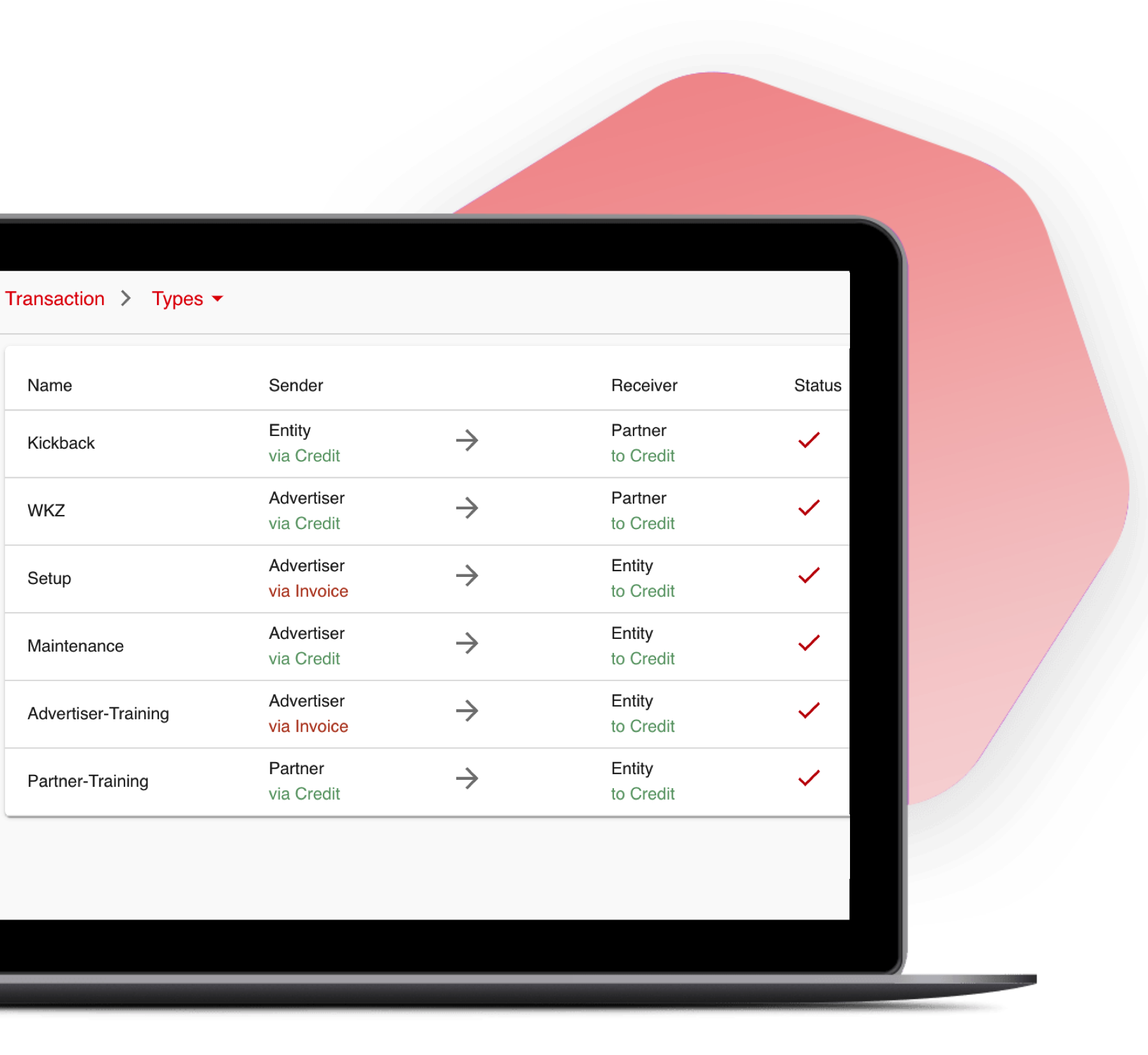 "Ingenious provided us the essential industry knowledge paired with a high technical know how. Their technological infrastructure, a combo of Kubernetes, Google Cloud, Kafka and Google Data Studio, got us especially interested to work with."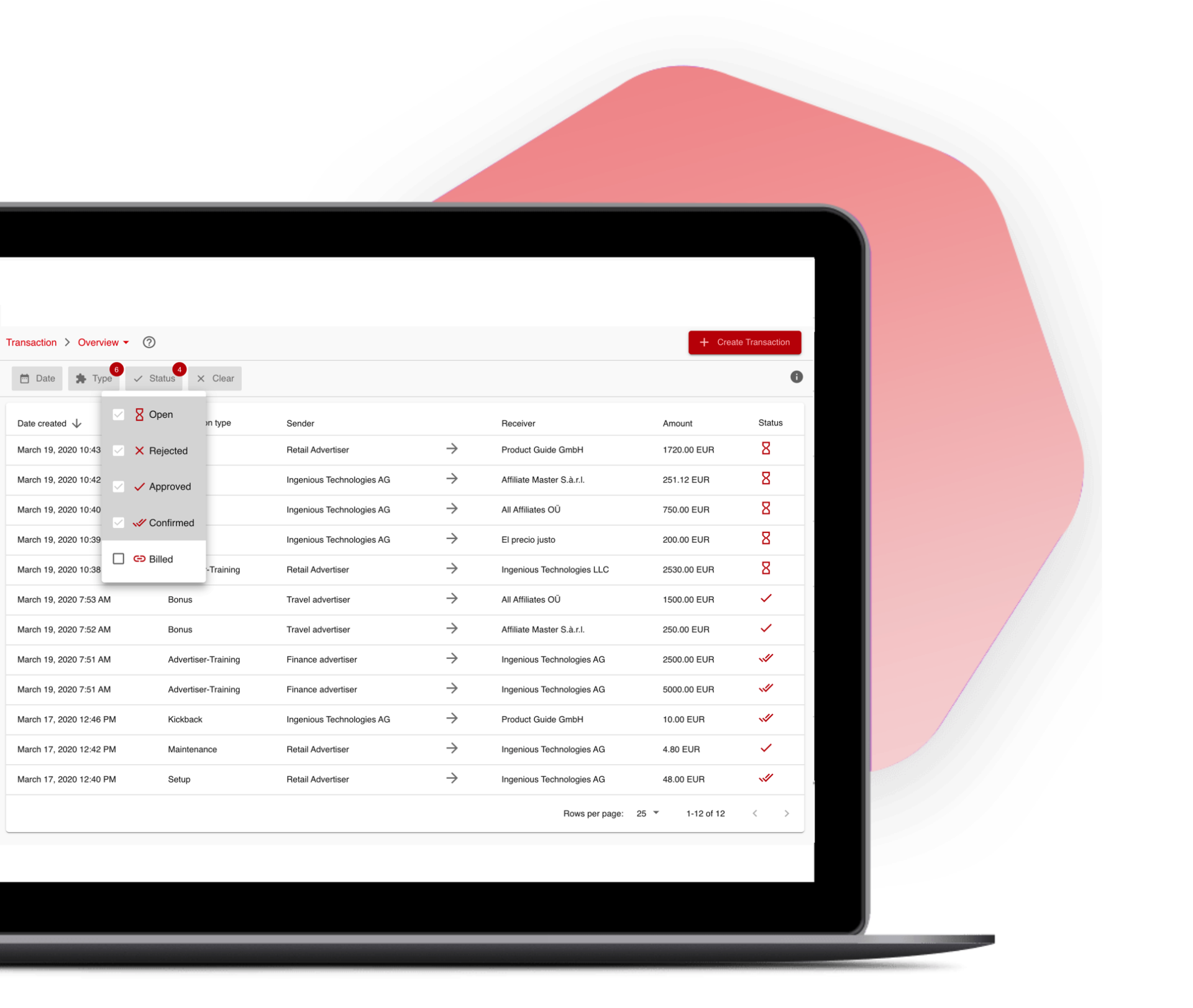 Access transparency
Get a granular view of your finance: every business transaction and every account transaction is logged (audit), giving you and your partners the greatest possible transparency.

Accounts & Statements
Inspired by online banking, participants in Finance have their own accounts with access to any statements in a chronological view.

Commission & Fee management
In Finance, you can manage your partner commission and platform fee via models and rules. Through different dimensions like time, category, target etc., you can configure your models in a very flexible way.

Billing & Financial documents
The billing process for advertiser and partner consists of any item that was previously created and validated. The billing preview allows you to manage upcoming documents in different status. Easily design brand-compliant invoice templates.

Transactions & Types
Independent from Tracking, you can reflect your financial cases like Fees for Setups- and Maintenance as well as own partner kickback payments through your entity by Transactions and Types.

Validation & Auditing
Access the complete basket and validate on position level. Automatically confirm conversions after a set time period or partially confirm/reject conversions. Ensure transparency of all financial objects and their movement. Get the complete history of any item in an activity view.

API
The Finance-API is offering several endpoints which allows you to automate your own finance processes on your side.
Check out what's new in Finance!
Proven Results
Because we light and breathe Big Data, we believe in figures to illustrate success.
Here are the results of Finance over the last 3 years:
Million booked balance changes
Million € of paid commission
Advertisers / Merchants
See how advertisers and merchants use the Ingenious Platform
Agencies
See how agencies use the Ingenious Platform
Portals / Marketplaces
See how portals and marketplaces use the Ingenious Platform
Performance Networks
See how performance networks use the Ingenious Platform
Join these brands!
Find out how the Ingenious Partner Marketing Platform can help you manage your marketing partnerships more effectively.