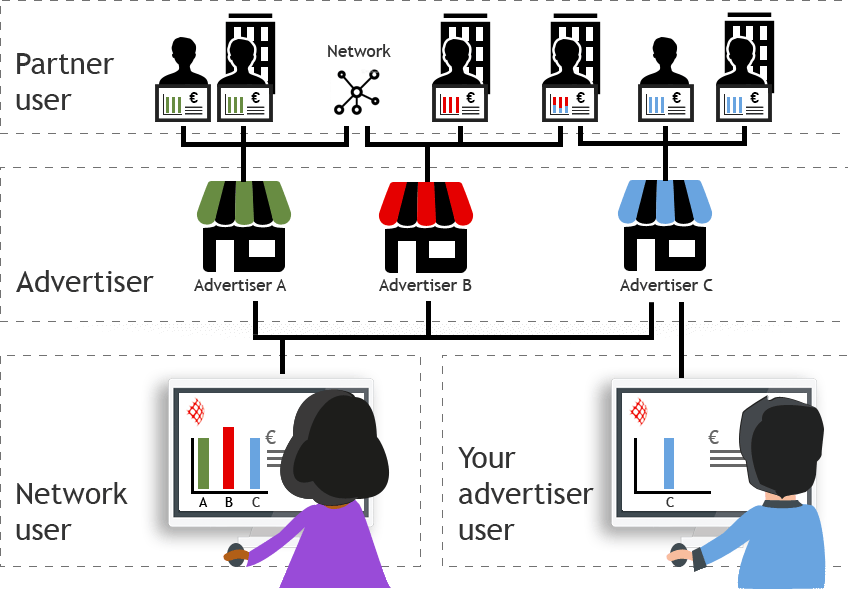 Built for Performance Networks
The flexible all-in-one platform for your advertisers and partners
We believe in tracking everything. How?
Custom tracking domains
Offer an upgrade to 1st-party tracking to your advertisers to minimize the risk of ad-blocking and increase tracking accuracy
Flexible tracking
Easily integrate our tracking into all major tracking systems (DoubleClick, etc) via a variety of features built to ensure compatibility
Offline to online & cross-device tracking
With our progressive attribution functionality, your advertisers can track their customers offline and online, as well as across devices
Customer lifetime value tracking
Identify the customer lifetime value using your customer IDs, and adapt your commission models over time
Container tag solution
Offer our UI-configurable container tag solution to connect advertisers with your publishers to simplify their on-page tracking integrations
Voucher tracking
Help your advertisers track the efficiency of their online and offline vouchers
Basket tracking
With our basket tracking technology, your advertisers can analyse their product performance by tracking the actual items that their customers buy
Post-view tracking
Add view data to your customer journeys to better analyse the effectiveness of your branding campaigns and attract partners
We believe you will impress your advertisers. How?
Click filters
Enable advertisers to control CPC quality by providing time-based or location-based click filtering
Conversion targets
Model the interactions you care about with commercial and analytical triggers
Basket management
Advertisers can easily handle partial refunds, updated basket information and manage all aspects of their tracked baskets
Voucher management
Offer your advertisers complete control over the timeframe, exclusivity and fraud handling of their vouchers
Customer journey analytics
Advertisers gain deep customer insight by diving into the macro and micro view of their customer journeys, identifying patterns, and optimising channel overlaps
Multiple product feeds
Enable advertisers to directly and automatically distribute product details to partners, therefore increasing the attractiveness of their offers
Commission management
Highly flexible and versatile commission management so that your advertisers have a variety of compensation options for their partners
Transaction validation
Advertisers can enjoy a variety of automations to free themselves from low value manual validation work
We believe you will impress your partners. How?
Automated dashboards & reports
At-a-glance dashboards for live monitoring of partner commissions and business, complemented by powerful reporting to monitor advertiser-specific performance
Transparent payment
Provide fully itemised payment entries, giving your partners full transparency over their commissions
Ad space management
Empower your partners to manage multiple ad spaces easily, within a single login
Ad media management
Powerful UI enable partners to search, filter and export their desired ad media, as well as set and apply sub IDs globally
Conversion forwarding
Partners can integrate other systems faster by using our UI-configurable 3rd-party pixel technology (browser-side and server-side in real time)
Multiple sub IDs supported
Up to 6 sub IDs can be used to enrich your partners' reporting or pass through to external systems
Deeplink generator
Provide partners with a foolproof way of generating correctly-formed deeplinks easily
Data exports
Ad media, reporting and payment exports available in CSV, XLS and XML via the UI or magic key export links
We believe your brand comes first. How?
Advertiser invoicing
Easily generate invoices with the information you need, based on customisable financial templates
Partner payments
Advertisers can manage and control partner payments at scale with just a few clicks
Fee management
Automated rule-based fee management to bill each advertiser according to your pricing strategy
Payment flexibility
A variety of billing modes provided (e.g. pre or postpayment) to match your finance team's desired billing process
100% GAAP-compliance
Control your financial processes in a GAAP-compliant manner
International capability
Tailor your financial documents currencies, tax systems, languages to the relevant markets you are present in
We believe in working smart. How?
One advertiser management platform
Consolidate, label and manage all of your advertisers within one platform, enabling you to work efficiently
Reporting
Analyse the performance of your account portfolio, across all advertisers and markets, easily in one go
Automated dashboards
Manage all of your accounts at a glance with real-time dashboards configured to display your desired KPIs
Rights & roles
As account managers change, you can easily hand over access to client data to the new account manager
Attribution manager
Forget the outdated last-click wins model: help advertisers prioritise, and therefore reward, marketing channels according to their desired marketing mix
Fee management
Automated rule-based fee management to bill each advertiser according to your pricing strategy
Bulk export/import
As standard our features come with bulk export/import capabilities saving you from wasted time and frustration
Technical support
As standard we provide advanced product support for those times when you need a helping hand
We believe your brand comes first. How?
Full white-label
Your business. Your network. Your branding. Your own platform.
1st-party domains
Provide your advertisers and partners with dedicated UI access running on your own domain
Customisable finance templates
Easily generate billing documents for your clients based on defined templates with your branding and financial information
Branded communication
Customise your email templates and integrate your email services to use your branding in all automatic system notifications sent out to your advertisers and partners
API
Automate and integrate workflows into your marketing ecosystem using your Ingenious 1st-party branded API
With Ingenious, you benefit from…
Fully comprehensive solution
We cover all your needs from providing a publisher interface all the way down to storing your financial documents.
Data accuracy
We track everything, so you can provide your clients granular data-driven insights, even down to raw data analysis, all with no data sampling applied.
Cost saving
Save on engineering and infrastructure costs. We charge monthly based on your product usage only.
Time saving
We provide various automations so you can manage your accounts with ease.
Control over your data
You can organise your tracked data and consolidate it according to your desired data structure and your clients' KPIs.
Knowledge base
We provide extensive documentation on our platform features, which you can refer to at any time.
Serviced by industry experts
Our team consists of online marketing professionals bringing many years of varied experience to the table.
Cloud native infrastructure
With our Google Cloud Partnership, we deliver you security and reliability of the highest standards.

Don't be shy
Join these brands and find out how Ingenious Partner Marketing Platform can help you manage your partnerships more effectively.