Customer's Decision-Making Cycle
Customers today are often impacted by your brand and products in different places. They may have seen your advertisement while reading a blog, then decide to search for a comparison portal to find the best deal. Still undecided a few days later, they go directly to your website to have another look and finally look you up on a search engine later and click on the sponsored links to make the purchase.
This comprehensive user path covering the full process from the initial impact by your brand until they buy or convert in any way on your website is known as the customer journey.
The interactions between your customer and any paid or non-paid exposure of your brand (in the example above: the mere view of the banner on the blog and a click in the comparison portal) are known as touch points.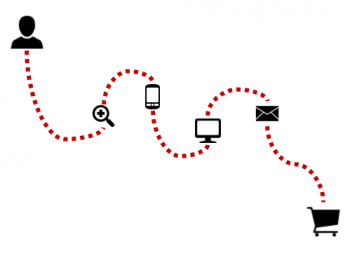 Because customer journeys are growing ever longer, you should ask yourself the following:
How much are my branding campaigns contributing to my sales and lead generation?
Which of my channels or partners are most strategic?
How long did my customers take before deciding on my products?
How many touch points did it take for them to convert?
Should I increase the number of touch points to avoid opportunity costs gaining sales only for a little extra spending?
What are the most common patterns?
What other considerations did my customers have in this decision-making process?
How do our customers behave online from market to market, and from product to product?
By understanding your customers' online behaviour linked to your brand and allocating your spending and messaging in the moments of maximum influence, you have a much greater chance of reaching your customers in the right place, at the right time and with the right message.
We have the answers for you to rapidly make a move.
With Ingenious Enterprise, you can capture all touch points in real time, no matter how many. This includes SEA, SEO, affiliate, display, email, social media and many more – and also on mobile devices. You can identify the advertising methods that triggered the initial contact (starter), catalysed the decision process (influencer) and carried the customer to the final sale (closer).
Through the ultimate interface for your customer journey analysis, you can easily filter the data for specific transaction types, product categories, time length, etc. in the chain.
Gain an accurate analysis of your customer journey and the synergies between channels. Optimize your media mix, budget, messaging, timing and resources. 
Related Content
---
---
Interested about finding out more? Simply leave us your contact details and we will be in touch!