Berlin, 14th September 2015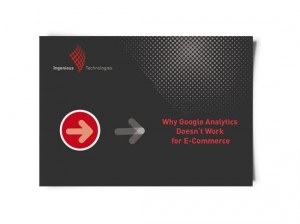 Almost 30 million websites are presently being analysed by Google Analytics, and this figure is continuously on the rise. But when does it make sense to use this free tool? Ingenious Technologies recently published a white paper that identifies the weaknesses and limitations of Google Analytics, which e-commerce marketers should bear in mind when using it. The analysis was carried out by the technlogy provider based on international studies, own experiences as well as several tests conducted.
In the recent past, the analytics tool of the American giant has been further developed specially to serve e-commerce marketers. This is yet another reason why a large number of marketers have opted for Google Analytics when analysing their e-commerce. But how exactly does the tracking and reporting work with Google Analytics and what are its limitations? Does Google Analytics really deliver the information that advertisers need to optimise their online marketing activities?
To answer these questions, the white paper provides insights on the growing community of users, who choose to have cookies automatically blocked, the problems linked to the usage of Adwords Remarketing, as they generate 3rd-party-cookies in return, as well as how Google favours its own search engine when reporting figures. Of course, data protection and integrity are also discussed in the white paper, and the question remains: how secure are the data from advertisers when a Google product is being used?
The white paper is free for download on the following website:
https://www.ingenioustechnologies.com/google-analytics-whitepaper/
===
About Ingenious Technologies:
Ingenious Technologies AG (www.ingenioustechnologies.com) is an independent technology provider for Business Analytics and Marketing Automation, with its headquarters in Berlin. Launched in 2012 by experienced online marketing experts from Technology, Marketing and Sales, the company focuses on the development and marketing of innovative, scalable technology for performance-based, branding-oriented online marketing and e-commerce. The one-product solution "Ingenious Enterprise" is developed to help advertisers, agencies and affiliates to monitor, analyze, optimize and process all their online marketing activities and partnerships across all channels and devices via a single platform. The solution meets all requirements of multi-channel tracking, affiliate software, private network and platform rating, billing, accounting and payment. With its dedicated support team, Ingenious Technologies also looks after its renowned customers from the retail, financial, as well as travel and telecommunications sector.
Christian Kleinsorge (CEO) and Eugen Becker (CTO) are continuously developing and improving the sales as well as the technology business in order to expand its position as leading innovator. The in-house research and development department ensures the innovative capacity of the company.
Apart from its headquarters in Berlin, Ingenious Technologies has subsidiaries in Szczecin, Madrid and Vienna.
If you need further information, please contact:
Ingenious Technologies AG
Océane Le Tiec-Bungard
Marketing Manager
Französische Straße 48
10117 Berlin
marketing@i19s.com 
+49 30 57702 – 6023