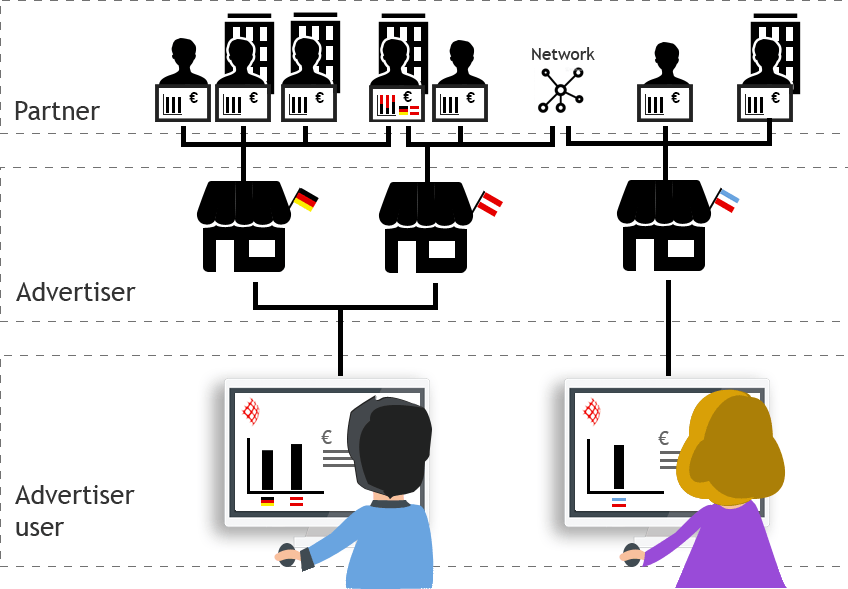 Built for Advertisers
The all-in-one platform to manage your marketing partnerships
We believe in tracking everything. How?
1st-party tracking
Increase tracking accuracy by using your own 1st-party domains and avoid potential ad-blocking
Offline to online & cross-device tracking
With our progressive attribution functionality, you can track your customers offline and online, as well as across devices

Voucher code tracking
Track your vouchers and control their use easily with our voucher tool
Basket freeze
Our basket freeze functionality ensures your vouchers add incremental value instead of last-minute cannibalization
Conversion forwarding
Transfer data and integrate other systems in real-time using our UI-configurable 3rd-party pixel firing (browser-side and server-side)
SEO-friendly links
Provide SEO-friendly tracking URLs for your partners and reap the benefits in organic search results
Tracking switch
Implement Ingenious as your leading tracking system to benefit from our cutting-edge functionalities across all of your marketing integrations
Post-view tracking
Add view data to your customer journeys to better analyse the effectiveness of your branding campaigns and attract partners
We believe partnerships should be exclusive. How?
Partner exclusivity
Own your marketing partnerships exclusively; there are no public partner pools with Ingenious
Dedicated admin and partner interfaces
Your admin and partner interfaces are not shared with any other customers; they are yours exclusively
True data independence
Your data is stored separately and independently; we don't mix data here at Ingenious
Data ownership
Your data is yours only; we do not use your data to further our own business interests
We believe your brand comes first. How?
Full white-label
Fully customise the platform in your own branding to make it truly yours
1st-party domains
All domains within Ingenious (login URLs, tracking URLs, API calls) are run over your 1st-party domain
Customisable finance templates
Customise your billing documents to your look and feel and with your desired financial information
Branded communication
Communication to your partners is sent via your email servers, retaining your branding throughout all interactions
We believe understanding the customer is king. How?
Conversion targets
Model the interactions you care about with commercial and analytical triggers
Real-time attribution
Real-time attribution model the interactions that you define as important, giving you the clearest picture of your customers
Customer journey analytics
Dive into the macro and micro customer journeys to identify patterns and optimise channel overlaps
Channel and device analytics
Gain deep insight into your marketing mix and your customers' device behaviours
Individual dashboards
Stay on top of your partners' performance with real-time dashboards configured to display your desired KPIs
Bulk export/import
As standard our features come with bulk export/import capabilities saving you wasted time and frustration
We believe finance should be easy. How?
Commission management
Set commission models based on your preferred performance indicators and pay your advertisers and partners out easily individually or in bulk via the platform
Commission bonus rules
Define rules, such as fixed bonuses or commission model upgrades, to automatically reward your partners and boost their performance
Billing run management
Easily manage billing runs (regardless of the number of partners) with just a few clicks
Cloud-based document storage
All of your generated financial documents are stored safely and securely in the cloud
100% GAAP-compliance
Control your financial processes in a GAAP-compliant manner
International capability
Tailor your financial documents currencies, tax systems, languages to the relevant markets you are present in
We believe technology should work for you. How?
Automated data transfer across systems
Make data compatible and automate transfer between differing systems by defining rules and translations that are executed in real-time
Automated validation
We provide a variety of automation to free you from low value manual validation work; we believe your time can be better spent
Central parameter management
Consolidate and easily manage your additional parameters so that they are automatically added to click-throughs, with no hardcoding necessary and human-error eliminated
Real-time deduplication
Automatically deduplicate with our sophisticated tracking switch so you don't have to do it manually ever again
API
Automate and integrate Ingenious workflows into your marketing ecosystem using our 1st-party branded API
With Ingenious, you benefit from…
Single source of truth
Ingenious is built to be your leading system, structuring and consolidating data from all of your external providers, making it ready for analysis.
Data accuracy
We track everything, so you can choose how deeply you want to analyse your data, even down to the raw data, all with no data sampling applied.
Cost saving
We charge monthly based on your product usage, not your business results.
Time saving
We provide various automations so you can stop wasting your time with manual work.
Control over your data
You can organise your tracked data and consolidate it according to your data structure and KPIs.
Fully comprehensive solution
We cover all your needs from providing a publisher interface all the way down to storing your financial documents.
Serviced by industry experts
Our team consists of online marketing professionals bringing many years of varied experience to the table.
Cloud native infrastructure
With our Google Cloud Partnership, we deliver you security and reliability of the highest standards.
"Ingenious Technologies have gone above and beyond to provide excellent technology and consultancy services to ensure that our marketing operations enjoy maximum efficiency and output. To us, they are not just a technology provider but also a strategic long-term business partner."
"It's the first time we get total transparency on our affiliation channel, allowing us to make a better attribution. The Ingenious team has offered great flexibility to provide us with a broad range of individualised support and valuable business information."
Don't be shy
Join these brands and find out how Ingenious Enterprise can help you manage your marketing partnerships more effectively.

Don't be shy
Join these brands and find out how Ingenious Partner Marketing Platform can help you manage your marketing partnerships more effectively.